1) Are you keen for your child getting into Parmiter's School?
Parmiter's School is one of the South West Herts Consortium - Schools which conducts Academic And Music Tests. During Academic Test, there'll be two tests, Mathematics and Verbal Reasoning.
Mathematics: This part of the exam is based on mathematics from Year 6 will require 50 minutes and is made up of 50 questions. Papers are prepared especially for the Consortium.

Verbal Reasoning: This part of the exam will take 45 minutes and includes 100 questions.
For the South West Herts Consortium, both Mathematics and Verbal Reasoning will be provided by GL Assessment.
Currently, The sample papers are not available on the Parmiter's School website but here are a few free 11 plus past papers with solutions will help your child to get ready for Parmiter's School.
Read more about school information: 11 Plus (11+) Exam Complete Guide 2020 | Parmiter's School
Exam Dates:
Parents are requested to check all latest information about the 11 Plus Parmiter's School Entrance exam, open days, registration dates, school exam dates on the Parmiter's School website.
Applicants will have the test In 2020.
2) How much competition is there for Parmiter's School Entrance Exam?
There is 208 Number of Places offered in Parmiter's Grammar School for Year 7. Parmiter's School is always oversubscribed which means that there are too many candidates to the places available. For example, if 1000 number of pupils apply for 208 places. Then, the marginal ratio of 5 candidates applies for single place giving a ratio of 5:1.
After having a look at all statistical info, Parmiter's school is taking only top 20 to 21% of pupils who've applied for 11 plus entry test.
Additional information concerning the entrance test / Parmiter's school 11 plus entrance exam format is mentioned in a previous part of the report.
For all updated information about 11 plus exam dates and exam format, we recommend parents to visit the school website: The Parmiter's School Admission Section on the school website.
We advise parents, a strict preparation on a lot of different maths questions, comprehension, and creative writing is essential.
The following section is on the way to prepare your child for Parmiter's school 11 Plus entry exam will provide you with more insights concerning preparation.
There are 3000+ questions in our 11 and previous paper section including detail stepwise answers, and each question is segregated by the topic. The link to access these papers is provided here: 11 plus past papers with solutions.
3) How to prepare for the 11 Plus entrance exam for Parmiter's School?
As discussed in the earlier section about the competition for getting a place in Parmiter's School, this section will now give more insights about the preparation for Parmiter's School.
Every parent in Hertfordshire and outside Hertfordshire make sure that their child is practicing many resources and various practice books available in the market. These resources are very good for practice. But, these are not enough and do not reflect the difficulty level of what Parmiter's School entrance exam is expecting.
Most of the students in Hertfordshire has practiced many resources available in the market. But Parmiter's School is looking at an exceptional child, as said before only top 20 to 21% of the top students. Therefore the school while designing the papers more likely to avoid the similar language of questions or style of questions appearing in various 11 plus resources available in the market.
Furthermore, these resources do not reflect the complexity of Parmiter's School exam paper.
We strongly recommend parents that the children who are appearing for Parmiter's School 11 Plus exam must be exposed to different 11 Plus Past Papers, which contains more logical, problem-solving type of questions and the language of the mathematical problems must be unique.
We never practiced the resources which are commonly present in the market in our tutoring classes. Our Tutors always challenged our students on more on logical problem-solving questions, lots of word problems and every question in our tutoring session was different.
Our tutors used to set up a structured homework on the 11 plus practice books and 11 plus past papers as homework for the student.
Every question the student needs to solve in less than 40 sec and the time management was on the priority.
Our success formula shows that students who practiced a variety of Mathematical questions not just from typical 11 plus resource provider but from other independent school's past papers succeed to get an entry into Parmiter's School.
To give an example, if you look at Merchant Taylors School paper, the questions are tough. Also, the language of the problems is very tricky to understand even for an adult. Our students when they appeared for Parmiter's School11 plus exam last year told us that practicing past paper questions helped them to crack the second round of Parmiter's School and managed the time accurately to complete the paper in given time.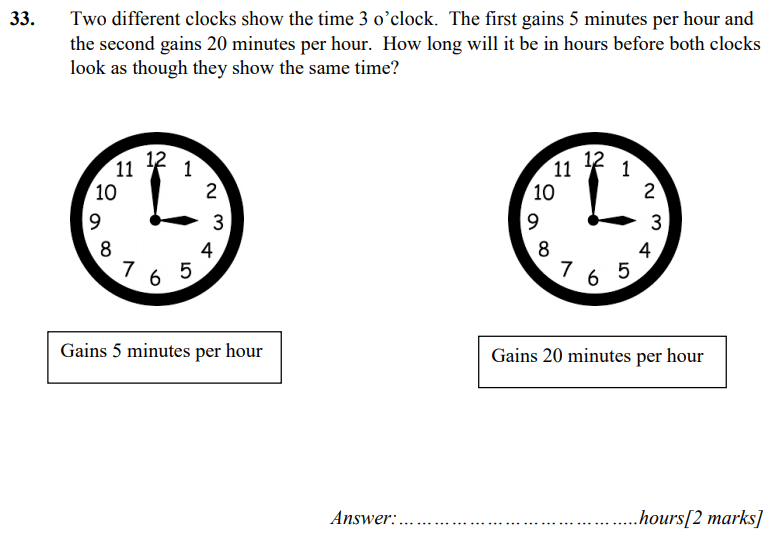 The question above is from the Merchant Taylors School paper. The problem clearly shows a difficult language where many children struggle. Our stepwise solution will be helpful and develop the confidence of a child. There is time guidance so the parent can monitor the child is solving question under time pressure.
For Parmiter's School, they look at the approach of a student to solve the question. Hence writing steps are extremely important. That shows examiner the thought process of child and method to answer the questions.
We strongly recommend the parents must practice scholarship questions. The parents can find the scholarship type of questions in 11 Plus Independent school Past papers. The parents can browse at the end of each 11 plus exam paper, the difficulty level of scholarship problems is very high. Practicing these scholarship questions we have noticed that it gives a boost to a child's independent thinking and logical approach to tackle any question. The students are not scared to see the language of the exam question when it appears in the actual exam 11 plus entrance exam in Parmiter's School.
Also, there are many past papers along with solutions on our website. Top mathematicians write these solutions. We recommend that students use 11 Plus Past Papers with solutions to have more practice for a variety of questions which may come in their examination.
Parents are advised to print the papers from our recommended practice paper links and can give it to the student ensuring the student complete the paper under timed and exam conditions.
The parents can come back to the website to mark the answers.
Solving a variety of papers helps students to learn time management.
Please see below links for our highly recommended resources.
Our top mathematician tutor team has put enormous efforts to write detail solutions to each question.
If you as a parent know what your child's weak area is our system will show you all question segregated by topic, and you can practice them.
4) How to revise for Parmiter's School?
Here we would like to give some expert tips:
Students who are preparing for multiple schools including Parmiter's School, the core subjects for 11 plus entrance test are Maths and Verbal Reasoning.
For Parmiter's School, 11 plus entrance exam the below revision schedule of 11 plus past papers is very helpful to clear the Parmiter's School entrance exam.
All students in PiAcademy used this schedule and secured a place in Parmiter's School.
Here is a small schedule we usually follow in our mathematics tutoring sessions to practise and revise the 11 plus past papers:
For 11+ Exam Papers, We are going to follow this planner.
Please download this

spreadsheet

to your desktop and update this every week the progress of the papers.
To access our subscription 11 plus exam past paper schedule click here.
Parents can go through the wrong questions with their child. As our system also shows topic wise segregated questions, it is beneficial for parents to practice more questions on the same topic and revise them frequently. In our 11 plus past paper subscription, the time guidance is given for each problem which helps parents to revise the topic questions with their children under time pressure.