11+ Online School – Fractions, Decimals & Percentages Intensive Course
Course Timeline
5 Days of course

Each Session = 1 hour 30 minutes
Course Dates
11+ Fractions, Decimals & Percentages Course (Weekday slots)
| | |
| --- | --- |
| Day 1 | 18 May 2021 (Tuesday) 5:30 pm to 7:00 pm |
| Day 2 | 25 May 2021 (Tuesday) 5:30 pm to 7:00 pm |
| Day 3 | 1 June 2021 (Tuesday) 5:30 pm to 7:00 pm |
| Day 4 | 8 June 2021 (Tuesday) 5:30 pm to 7:00 pm |
| Day 5 | 15 June 2021 (Tuesday) 5:30 pm to 7:00 pm |
** For this course students, the final Mock Exam will be conducted online on Friday 25th June 2021.
Brief Course Outline
Fractions, Decimals & Percentages
Fraction word problems (Add, Sub, Mul, Div)
Equivalent Fractions, Comparing fractions, Shading fractions
Multiples, Factors, Ordering Fractions, HCF, LCM Word Problems
Rounding decimals, Order and compare decimals, Add, Sub, Mul, Divide decimals.
Decimal manipulation (with 10, 100, 1000, etc) word problems.
All Conversions (Fraction to decimals to percentages), Percentage of a quantity, Increase by a percentage, Decrease by a percentage, Find a percentage increase, Find a percentage decrease Word Problems
Reverse percentage questions including discount, sale price, loss and profit, normal price, simple interest.
Course Materials
Course Handbook (Sample)
Lecture Notes
Homework (with past paper questions)
Unique Guidance & Support for the parents.
Simultaneously book for these courses:
Note: We kindly advise parents to check course description, timings and dates before they book for the course. All our courses are non-refundable.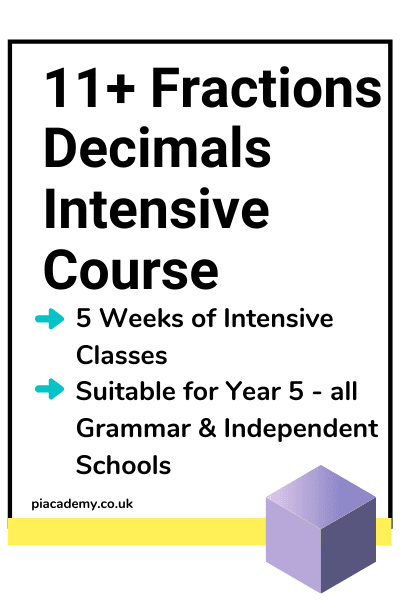 This course will cover the Fractions, Decimals & Percentages of 11+ curriculum from basics to the advanced. Lecture notes, homework will be provided in pdf copy to print and save for future reference. We have curated this course to teach your child the exam techniques and how to perform well with the equations and formulas under time conditions. We have only a few seats left. Book your slot before they are booked by other curious parents like you 🙂
Book two Courses, Save £50: Use code SAVE50 during checkout
Book three Courses, Save £100: Use code SAVE100 during checkout
Experience of 11+ Parents
Mr. Rakesh

11+ Parent, Doctor.
Amazing experience with PiAcademy! My son is very smart and tried many tutors, and none of the tutors were able to challenge him, but the tutor we had from PiAcademy challenged to the extreme levels. My son used wait for the classes every week. I recommended PiAcademy classes to all my friends. 👍
Mrs. Christel

11+ Parent, Analyst
your tutors are superb. Always punctual, prepared and cheerful, you are a gift to any young person hoping to improve their maths of 11+ (or anything else). Preeti also has been hugely supportive to us in this 11+ journey, and has helped us to build confidence in so many areas. Trustworthy and warm-hearted, I recommend PiAcademy without hesitation.
Very structured course, every week we received the class notes, homework which also includes the past paper questions. very good practice with their handbook and I believe this is perfect revision course we attended for 11+ Exam.
Dr. Saad Eddin

11+ Parent, Doctor.
Exceptional tutors at affordable pricing compared to other tuitions. The material I received is very structured and covers all types of questions of 11+, I Was really pleased to find PiAcademy. My children say the classes helped them immensely. I highly recommend PiAcademy to everyone.
Mrs. Helen

11+ Parent, Art & Design Teacher.
My son has increased in confidence through tutoring with PiAcademy. From 60% few months back, He is now achieving like 90% above in all the past papers of 11+. It seems he is applying the techniques learned with PiAcademy courses. Actually I am the first one who books their slots as soon as they get released! very happy with your tutors Preeti! All the best and thanks for helping us in this lockdown. Cheers!
Frequently Asked Questions
Snapshot of all Modular Courses (Daily Updated)
11+ Group Tuition Maths & English (Sunday Batch)

Course Starting On: 19/September/2021
Runs on: Every Sunday (10:00 AM to 12:45 PM)
*English: 10:00 AM to 11:00 AM
*Maths: 11:15 AM to 12:45 PM
Availability: 6 seats left!

11+ Group Tuition Maths & English (Saturday Batch)

Course Starting On: 04/September/2021
Runs on: Every Saturday (10:00 AM to 12:45 PM)
*English: 10:00 AM to 11:00 AM
*Maths: 11:15 AM to 12:45 PM
Availability: 2 seats left!

11+ Exam Independent School Booster Course

Course Starting On: 26/September/2021
Runs on: Every Sunday (2:30 pm to 5:15 pm)
*English: 2:30 pm – 3:30 pm
*Maths: 3:45 pm – 5:15 pm
Availability: 6 seats left!

11+ Algebra Mastery Course – Batch 1 (Weekend Slots)

Course Starting On: 11/September/2021
Runs on: Every Saturday (11:00 am to 12:30 pm)
Availability: 6 seats left!

11+ Algebra Mastery Course – Batch 2 (Weekday Slots)

Course Starting On: 15/September/2021
Runs on: Every Wednesday (5:30 pm to 7:00 pm)
Availability: 7 seats left!

11+ Fractions, Decimals Mastery Course – Batch 1 (Weekday Slots)

Course Starting On: 16/September/2021
Runs on: Every Thursday (5:30 pm to 7:00 pm)
Availability: 7 seats left!

11+ Algebra Summer Intensive Course (Weekday Batch)

Course Starting On: 02 August 2021
Runs on: Every Weekday (10:15 am to 11:45 am)
Availability: Fully Booked

Year 4 – 11+ Group Tuition – Maths & English

Course Starting On: 2/August/2021
Runs on: Every Monday to Thursday
*English: 10:15AM to 11:15AM
*Maths: 11:30 AM to 12:30 PM
Availability: Fully Booked

11+ Exam GL Booster Summer Course

Course Starting On: 22/August/2021
Runs on: Every Monday to Thursday
*English: 2:00 PM – 3:00 PM
*Maths: 12:00 PM – 1:00 PM
*Verbal Reasoning: 1:15 PM – 1:45 PM
Availability: Fully Booked

11+ Group Tuition – Maths and English

Course Starting On: 19/September/2021
Runs on: Every Sunday
*Maths: 11:15 AM to 12:45 PM
*English:10:00 AM to 11:00 AM
Availability: 6 Seats left!

11+ Foundation Course – Maths & English

Course Starting On: 17/July/2021
Runs on: Every Saturday
*English: 9:00 AM to 10:00 AM
*Maths: 10:15 AM to 11:45 AM
Availability: Fully Booked

11+ Maths & English Intensive Revision Course

Course Starting On: 24/June/2021
*Maths: 10:15 AM to 11:45 AM
*English: 12:00 PM to 1:00 PM
Availability: 2 Seats left

11+ Maths and English – Intensive Course

Course Starting On: 1/May/2021
Runs on: Every Saturday
*Maths: 11:30 AM to 1:00 PM
*English: 10:15 AM to 11:15 AM
Availability: Fully Booked

11+ Exam CEM Booster Course

Course Starting On: 22/August/2021
*Numerical Reasoning: 3:00 pm to 4:00 pm
*English & VR: 4:15 pm to 5:45 pm
Availability: Fully Booked

11+ Maths and English – Intensive Course

Course Starting On: 3/May/2021
Runs on: Weekdays
*Maths: 5:30 PM to 7:00 PM
*English: 6:00 PM to 7:00 PM
Availability: Fully Booked

11+ Exam GL Booster Course

Course Starting On: 17/July/2021
Runs on: Every Saturday & Sunday
*English: 10:00 AM – 11:00 AM
*Maths: 11:15 AM – 12:15 PM
*Verbal Reasoning: 12:30 PM – 1:00 PM
Availability: Fully Booked

11+ Exam Maths Booster Course

Course Starting On: 16/August/2021
Runs on: Everyday 10:15 am to 11:45 am
Availability: Fully Booked

11+ Exam English Booster Course

Course Starting On: 28 June 2021
Runs on: Every Monday 6:15 pm to 7:45 pm
Availability: Fully Booked

11+ Maths Complete Revision Course

Course Starting On: 24/June/2021
Runs on: Every Thursday 5:30 PM to 7:00 PM
Availability: 7 Seats left!

11+ Maths Past Papers Questions Course

Course Starting On: 16/June/2021
Runs on: Every Wednesday 5:30 PM to 7:00 PM
Availability: 1 Seats left

11+ Maths Practice Papers Course

Course Starting On: 22/May/2021
Runs on: Everyday 10:15 AM to 11:15 AM
Availability: Fully Booked

11+ English Past Papers Questions Course

Course Starting On: 24/April/2021
Runs on: Everyday 5:30 PM to 7:00 PM
Availability: Fully Booked

11+ Fractions, Decimals & Percentages
Course

Course Starting On: 13/June/2021
Runs on: Everyday Sunday 5:30 PM to 7:00 PM
Availability: Fully Booked

11+ Fractions, Decimals & Percentages Intensive Course

Course Starting On: 18/May/2021
Runs on: Everyday Tuesday 5:30 PM to 7:00 PM
Availability: Fully Booked

11+ Ratios, Measurement & Sequences
Course

Course Starting On: 13/June/2021
Runs on: Every Sunday 10:15 AM to 11:45 AM
Availability:Fully Booked

11+ Ratios, Measurement & Sequences Intensive Course

Course Starting On: 12/May/2021
Runs on: Every Wednesday 5:30 PM to 7:00 PM
Availability: Fully Booked

11+ Statistics & Probability Course

Course Starting On: 20/September/2021
Runs on: Every Monday 5:30 PM to 7:00 PM
Availability: 7 seats left

11+ Permutations & Combinations
Course

Course Starting On: 21/ September/2021
Runs on: Every Tuesday 5:30 PM to 7:00 PM
Availability: 7 seats left

Course Starting On: 12/June/2021
Runs on: Every Saturday 10:15 AM to 11:45 AM
Availability: Fully Booked

11+ Algebra Intensive Course

Course Starting On: 6/May/2021
Runs on: Every Thursday 5:30 PM to 7:00 PM
Availability: Fully Booked

Course Starting On: 12/September/2021
Runs on: Every Sunday 10:00 AM to 11:30 AM
Availability: 6 seats left

11+ Verbal Reasoning Intensive Summer Course

Course Starting On: 31/July/2021
Runs on: Everyday 12:30 PM to 2:00 PM
Availability: 7 Seats left!

Course Starting On: 27 February 2021
Runs on: Everyday 5:30 PM to 7:00 PM
Availability: Fully Booked

11+ Non-Verbal Reasoning Intensive Summer Course

Course Starting On: 24 July 2020
Runs on: Everyday 12:30 pm to 2:00 PM
Availability: 6 Seats left!

Course Starting On: 17/April/2021
Runs on: Weekend 3:30 PM to 7:00 PM
Availability: Fully Booked

11+ English Modular Courses

11+ Comprehension Mastery Course – Batch 1 (Weekend Slots)

Course Starting On: 19/September/2021
Runs on: Every Sunday 9:00 am to 10:30 am
Availability: 7 Seats Left

11+ Comprehension Mastery Course – Batch 2 (Weekend Slots)

Course Starting On: 18/September/2021
Runs on: Every Saturday 5:30 pm to 7:00 pm
Availability: 7 Seats Left

11+ Comprehension Mastery Course – Batch 3 (Weekday Slots)

Course Starting On: 15/September/2021
Runs on: Every Wednesday 5:30 pm to 7:00 pm
Availability: 6 Seats Left

11+ Creative Writing Mastery Course – Batch 1 (Weekend Slots)

Course Starting On: 12/September/2021
Runs on: Every Sunday 11:45 AM to 1:15 PM
Availability: 6 Seats Left

11+ Creative Writing Mastery Course – Batch 2 (Weekend Slots)

Course Starting On: 25/September/2021
Runs on: Every Saturday 9:00 am to 10:30 am
Availability: 7 Seats Left

11+ Creative Writing Course

Course Starting On: 13/June/2021
Runs on: Every Sunday 11:45 AM to 1:15 PM
Availability: 2 Seats Left

Course Starting On: 12/June/2021
Runs on: Every Saturday 5:30 PM to 7:00 PM
Availability: 2 Seats Left

11+ Comprehension Course Batch 2

Course Starting On: 13/June/2021
Runs on: Every Sunday 9:00 AM to 10:00 AM
Availability: Fully Booked

11+ Grammar in Writing Course

Course Starting On: 1/May/2021
Runs on: Every Saturday 5:30 PM to 7:00 PM
Availability: Fully Booked

11+ Comprehension Half Term Course

Course Starting On: 30 May 2021
Runs on: Everyday 5:30 pm to 7:00 pm
Availability: Fully Booked

11+ Creative Writing Half Term Course

Course Starting On: 30 May 2021
Runs on: Everyday 10:00 am to 11:30 am
Availability: Fully Booked

11+ Algebra Half Term Course

Course Starting On: 30 May 2021
Runs on: Everyday 12:30 pm to 2:00 pm
Availability: Fully Booked

11+ Non-verbal Reasoning Half Term Course

Course Starting On: 30 May 2021
Runs on: Everyday 3:00 pm to 4:30 pm
Availability: Fully Booked

11+ Verbal Reasoning Half Term Course

Course Starting On: 29 May 2021
Runs on: Everyday 10:00 am to 11:30 am
Availability: Fully Booked