Tips for parents to prepare for the 11 Plus entrance exam for The Tiffin Girls School?
The Tiffin Girls' School doesn't disclose details of its test provider for secondary school entry in Year 7, 11 plus entrance exam. For many parents, this is a concern. However, our team of tutors will help students to prepare for the Maths and English, which are core subjects for 11 plus entrance exam.
Our advice to parents to start the exam preparation early by practicing past papers.
Download free 11 plus past papers from our website:
The links for both 11 Plus Maths Practice Papers and 11 Plus English Practice papers are given below:
The parents can download free papers, print it and give it to the child under timed conditions.
Parents can mark the paper by visiting the website.
Parents can make a list of weak areas and practice more questions on similar topics by revisiting the website. For Maths, we have segregated all questions from 11 plus maths past papers as per the topic which helps parents to revise more effectively.
If you as a parent know what your child's weak area is our system will show you all question segregated by topic, and you can practice them.
Not only do these papers give parents a general idea of existing skills, but also help them to identify the weak areas. Our topic wise segregation help parent to practice more questions on weak topic areas.
These papers are helpful for first as well as the second stage of 11 plus entrance exam for Tiffin grammar school.
For the second stage 11 plus entrance test, the focus is on extended English and creative writing.
Our top oxford tutors have solved plenty of 11 plus English past papers. It includes answers for English comprehension and model answers for creative writing. Each English comprehension answer is provided with a hint for the student to help them out to think about how the answer is derived. Our tutors have also provided every answer with line number and reference number from the comprehension.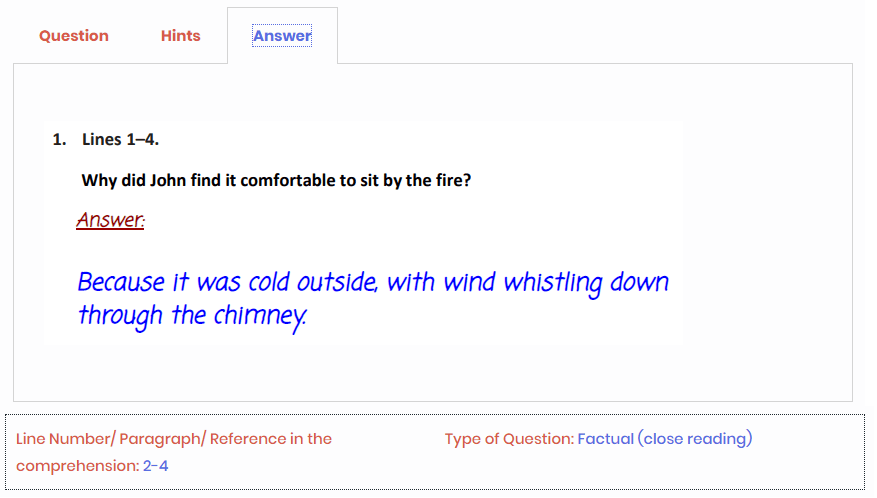 This year our students secured 140/140 in QE boys exam and Band A in HBS. Our tutors worked hard. We never practiced the resources which are commonly present in the market in our tutoring classes. Our Tutors always challenged our students on more on logical problem-solving questions, lots of word problems and every question in our tutoring session was different.
Our tutors used to set up a structured homework on the 11 plus practice books and 11 plus past papers as homework for the student.
What is the 11 Plus exam format for The Tiffin Girls School?
The Tiffin Girls School 11+ entry test has two stages, which can be stage one and stage two.
In 11 plus entrance exam for The Tiffin Girls School, there are two stages:
Stage One:
The Tiffin Girls School stage one Test is a multiple-choice test, and it includes an English paper and a Mathematics paper.
Stage Two:
In The Tiffin Girls School stage, two round the main focus is given on the core subjects of English and Mathematics.
Currently, The Tiffin School for girls sample papers are not available on the school website but here are few 11 plus Maths and 11 Plus English past free papers with solutions will help your child to prepare for The Tiffin Girls School entrance exam.
Read more about school information: The Tiffin Girls School 11 Plus (11+) Exam Complete Guide 2020.
Exam Dates:
Stage One Test : October 2020 (TBC)
Stage Two Test : November 2020 (TBC)
How much competition is there for The Tiffin Girls School Entrance Exam?
The School receives approximately 1805 applicants for 180 places for year 7. Which shows that the tentative ratio of 10 candidates applies for a single place offering a ratio of 10:1.
After taking a look at all statistical information, Tiffin Girls School is taking only top 9 to 10% of students who have applied for 11 plus entrance test.
Additional information about the entrance test / Tiffin Girls School 11 plus entrance test format is mentioned in an earlier section of Tiffin Girls School entrance exam.
We advise parents, a rigorous preparation on a variety of Maths questions, and comprehension and creative writing are required.
Outstanding A-Levels and GCSE results
A-Levels 2018/19: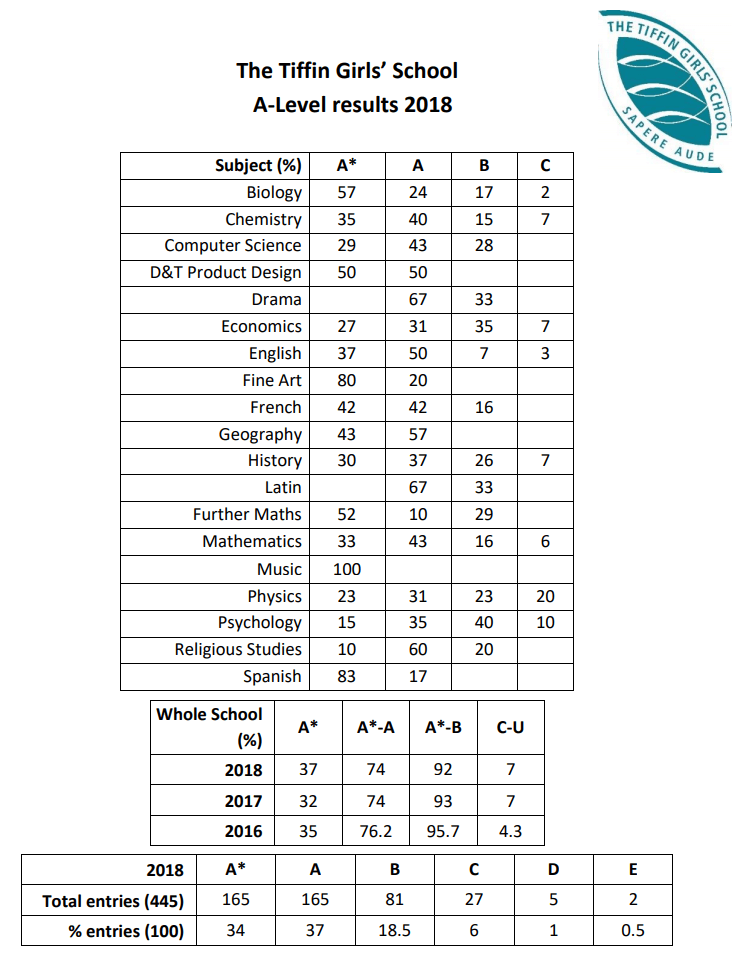 GCSEs 2018/19:
What are the revision tips for Tiffin Girls School?
Here we would like to give some expert tips:
For Tiffin Girls School 11 plus entrance exam, the below revision schedule of 11 plus past papers is very helpful to clear the Tiffin Girls School entrance exam.
All students in PiAcademy used this schedule and secured a place in Tiffin Girls School.
Below is a schedule we usually follow in our mathematics tutoring sessions to practice and revise the 11 plus past papers:
Please download this spreadsheet to your desktop and update the fields provided in this spreadsheet. This will help you to monitor your child's development.
You can now access our subscription of 11 Plus Past Papers with Detailed Answers.
Parents can go through the wrong questions with their child. As our system also shows topic wise segregated questions, it is beneficial for parents to practice more questions on the same topic and revise them frequently. In our 11 plus past paper subscription, the time guidance is given for each problem which helps parents to revise the topic questions with their children under time pressure.
How to get the top tutor to prepare for 11 plus exam for Tiffin Girls School
We are aware that preparing for your child's examination is crucial and may be a significant focus in preparing your child's for 11 plus exam.
We have many courses customised for your child. Our tutors can provide one to one tutoring depending upon which schools you wish to apply.
The parents are advised to check the following links:
All our tutors have a specialised qualification in their subjects and are graduated from top universities. All our courses are designed as per 11 plus syllabus.
Our distinctive approach not only utilises the most up-to-date tools, our inspirational and engaging tutors will direct and encourage your child every step along the way while providing clear and honest opinions about your children's progress.
More than 90% of our student's secured places in grammar and independent schools.