What is 11 Plus SPaG?
SPaG is an acronym for the words spelling, punctuation, and grammar. The concept was introduced to primary schools in 2014 via the National Curriculum to help improve the literary skills of young children.
SPaG is an inherent part of every GL style of the 11+ entrance exams. Typically there are a total of 55 questions in 11 plus GL English papers. Out of these 55 questions, there are 27 MCQ style SPaG questions 9 from each of the Spelling, Punctuation, and Grammar categories.
.
Sample of SPaG Questions asked in 11+ English Exams: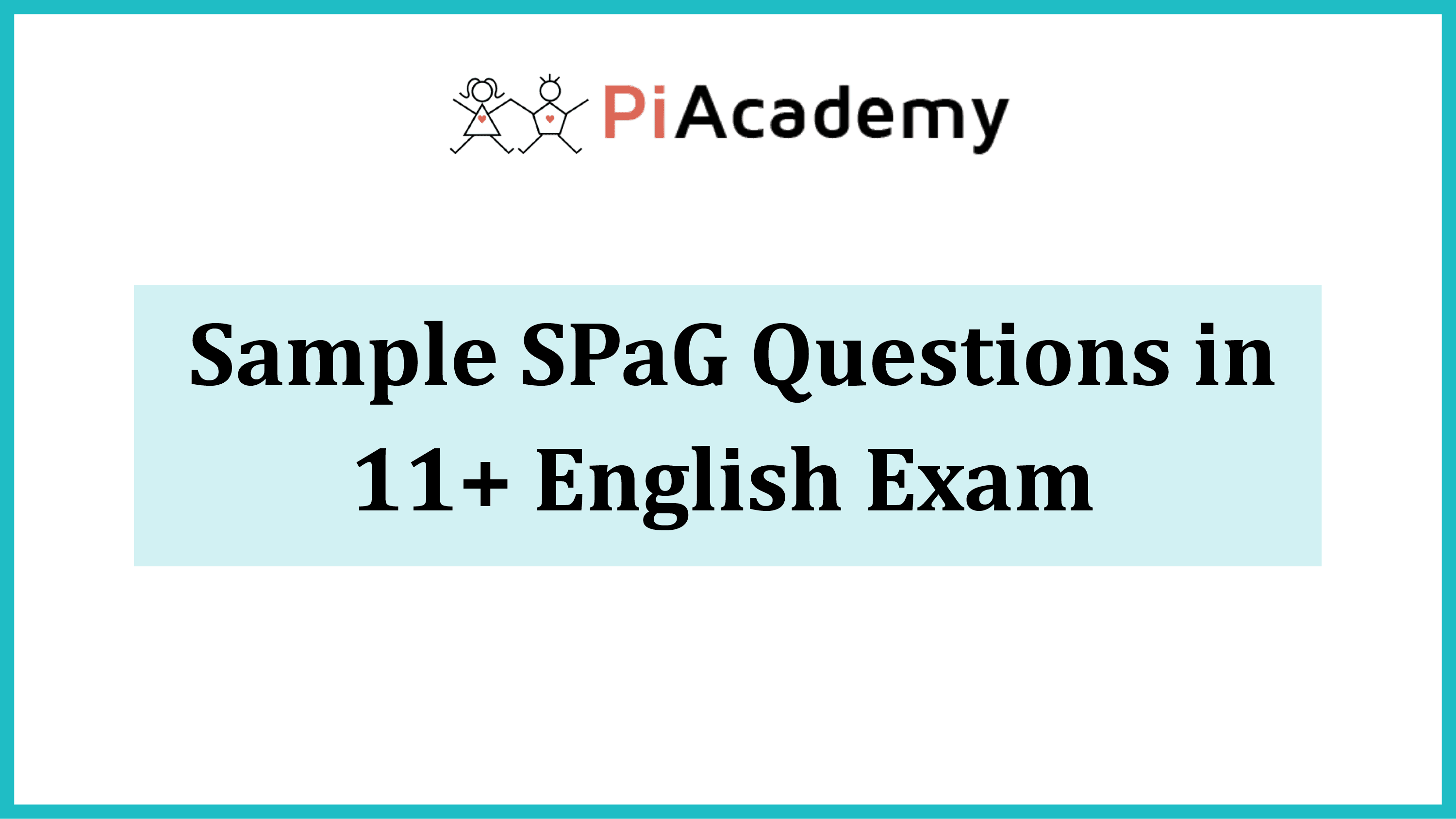 ❮
❯
.
Why is SPaG important in the 11 plus exam?
Spelling, Punctuation, and Grammar cover roughly half of the 11+ GL assessment English papers. Having a good command over SPaG Topics can significantly boost pupil's scores in GL-style 11+ exams.
What is the syllabus of the 11 Plus SPaG Test?
The SPaG test, revised in 2016, is drawn from the national curriculum statutory programme of study (2014) for English. There are two imperative appendices:
Spelling
Vocabulary, grammar, and punctuation
Detailed 11 Plus Spelling Syllabus
A variety of different patterns within the English language, as well as the words which stand out as exceptions to them. These exception words contain GCPs (Grapheme-phoneme Correspondence: phoneme is the smallest amount of sound in a word, a grapheme is a way you write the phoneme - the process of breaking a sound down into letters - and correspondence is the process of matching the phoneme to the grapheme to create a word.) that are not considered widely applicable.
A revision of work done in reception such as the letters of the alphabet and the sounds they represent
Vowel and consonant digraphs (a combination of two letters that represent a sound), and the sounds they represent,
The process of sounding out words before choosing the correct graphemes to represent them
Words with adjacent consonants.
More complex vowel digraphs, trigraphs (a combination of three letters that represent a sound), and GCPs. Some words that would fit into this category are ones that are spelt differently from how they sound such as knock and elephant.
Complex pluralization, words such as flies and copies will be introduced.
How to determine different types of pluralization and when they are applicable.
Compound words
Prefixes
Suffixes
Contractions
The possessive apostrophe
Homophones and near homophones,
Words ending in 'tion'
Adding suffixes with vowel letters to words of more than one syllable, suffixes such as 'ation,' 'ous,' and 'ly'.
The /i/ sound spelt as 'y'
Digraphs that will be learnt as needed, such as 'ou' in words young, or touch
Prefixes with specific rules such as the ones that change the meaning of a word, for example, agree – disagree
Words that end in 'ure' and their pronunciations, such as creature, and sure.
Endings 'tion,' 'soin,' 'ssion,' and 'cian'
Words that are spelt with digraphs or trigraphs that create specific sounds, for example when the /k/ sound is spelt as 'ch' in scheme or when the /g/ sound is spelt 'gue' in league
The possessive apostrophe with plural words
More homophones and near-homophones
Endings such as 'cious,' 'tious,' and 'cial,' 'tial,'
Words that end with 'ant,' 'ance'/'ancy', 'ent,' and 'ence'/'ency,' and 'able,' 'ible,'/'ably' and 'ibly.'
Suffixes beginning with vowel letters to words ending in 'fer,'
Use of the hyphen
The 'i before e except after c' rule
Words including the string of letters 'ough,'
Silent letters
More homophones and other words that are confused.
(For a full list of examples, please head over to the Government Website)
Detailed 11 Plus Vocabulary, Punctuation, and Grammar Syllabus
Forming sentences
Creating short narratives
Full stops, spaces, question marks, and exclamation marks and how they can separate words and demarcate sentences
Capital letters and their uses
Suffixes
Turning adjectives into adverbs
Subordination and coordination
Expanded noun phrases for description and specification
How the grammatical patterns in a sentence indicate its function as either a statement, question, exclamation, or command
Tenses
Commas and apostrophes.
Prefixes such as super- or anti-,
The use of 'a' or 'an' depending on the first letter of the next word
Word families (for example, solve, solution, solver, dissolve, insoluble,)
Expressing time and place within a sentence
Paragraphs
Headings and sub-headings
Use of the present perfect form of verbs instead of the simple past (she has gone swimming instead of she went swimming.)
Inverted commas as speech marks
The difference between plural and possessive
Verb inflections instead of local spoken forms (I did instead of I done.)
Addition of adjectives to enhance the description
Appropriate choice of pronoun across sentences to avoid repetition
Relative clauses (who, whose, when)
Indicating degrees of possibility using adverbs or modal verbs
Devices to help with cohesion within a paragraph
Linking ideas across paragraphs
Brackets, dashes, and commas to indicate parenthesis,
The difference between informal and formal
Synonyms and antonyms and the use of the passive to present information differently (from I tore down the sign to The sign was torn down)
Use of the semicolon and colon
How hyphens can be used to avoid ambiguity.
Now it's time to quickly test your knowledge of 11 plus SPaG with our 11+ SPaG test below -

.
Please click here to see the full 11+ SPaG Practice Papers.
The Benefits of Learning 11 Plus SPaG
A good understanding of Spelling, Punctuation, and Grammar for the 11 Plus will prove to be extremely helpful when pupils take the verbal reasoning and English components of the 11+ entrance test.
Verbal reasoning focuses on your child's understanding of grammar and vocabulary while the English paper tests your child's creative writing skills. A history of learning SPaG will be invaluable as the tricky rules will be ingrained in their understanding of the written word and this will be obvious to markers.
Preparing for 11 Plus SPaG Tests
The Standard Assessment Tests will help prepare for SPaG topics, but there is a multitude of ways in which preparation can be achieved. Noting down everything from the 11+ SPaG Syllabus and systematically practicing the topics would help in gaining mastery over 11 plus SPaG Concepts. Pi Academy offers 11+ SPaG test papers with detailed answers and many different online courses so that pupils can be helped in their problem areas.
Snapshot of our 11 plus SPaG test Questions with detailed answer explanations and hints -
FAQs