How to do great in KS2 English SATs!
If your child is currently at the level of KS2 English, you know as well as we do that they will soon be facing their KS2 English test, known as the Year 6 SATs, taken before students leave Primary School. With so much to prepare for at this busy time in your child's life, you don't want to spend hours googling, 'key stage 2 English curriculum' or 'SATs papers KS2 English'… So, we have condensed all that you need to know into this one post!

Read on to find out:
What do the KS2 English SATs consist of?
How you should prepare for the SATs papers…
How PiAcademy can help!
Helpful tips to keep in mind.

.
What is Key Stage 2 English, and what do the KS2 SATs include?
You do not need to have a comprehensive understanding of the entire KS2 English curriculum to help prepare your child for their SATs tests… The most important thing for you to know, is that Year 6 pupils are tested in four areas: grammar, spelling, punctuation, and reading.
There are three different KS2 English Papers that you need to understand.
Paper 1 – Spelling, Punctuation, and Grammar.
(You may hear this referred to as 'SPaG'!)
This test lasts for 45 minutes, with 50 marks to be gained.
Key stage 2 grammar, punctuation, and spelling questions will focus on and test students' understanding of the following: grammatical terms and word classes; functions of sentences; combining words, phrases and clauses; verb forms and tenses; punctuation; vocabulary; and Standard English and formality. Thus, for this test it is clearly important that your child can recognise and name different parts of speech, to demonstrate their understanding of English grammar, punctuation and spelling. (Some will be multiple choice questions, whilst some will require short written answers.)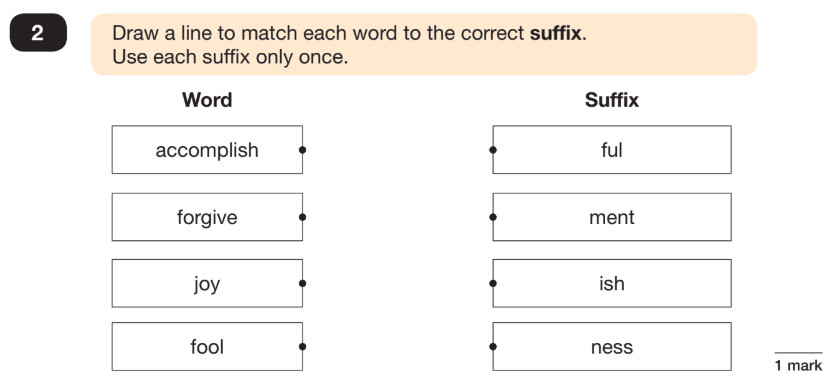 Here is an example of a combining word question. As you can see, the question asks the student to match words to their suffixes. The bottom right hand corner shows that there is one mark available for this question. (The amount of marks available per question, displayed in all of the KS2 English SATs papers, should indicate to the pupil how long to spend on the question. Spend longer on a four mark question – a one mark question should be quick and simple!)
Paper 2 – Spelling
This test lasts for approximately 15 minutes, with a total of 20 marks available.
The Key Stage 2 Spelling test paper provided will be a short passage, with some words missing; the test administrator will have another copy of the passage with the words included. The passage will be read out to the children, and they will fill in the blanks. KS2 grammar, punctuation, and spelling answers will be marked on accuracy.

Here is an extract from the spelling paper. Each blank spaced to be filled is one word (read aloud by the exam administrator), each correctly spelled word worth one mark each.
Paper 3 – Reading
The reading test lasts for 60 minutes, including reading time. A maximum of 50 marks can be awarded.
Pupils will be given a reading booklet (there are no set Key Stage 2 English books for the Year 6 SATs), comprising of three texts increasing in difficulty. Each of the texts will be between 1500-2300 words. An answer booklet with questions will also be provided.
The Key Stage 2 English reading questions will test students on the following: explaining the meanings of words in context; comprehension, asking pupils to identify key details from fiction and non-fiction texts; summarising passages or paragraphs; inference, and justification of inference with evidence from the text; identification and explanation of how meaning is conveyed by the writing; making comparisons within the texts.
How should you and your child prepare for Key Stage 2 English SATs? (And how can we help?)
As for all exams, for Key Stage 2 revision, we advocate one thing above all else… Practice! Having been taught how to handle the types of questions detailed above at school, the main concern for your child is practice.
Here at PiAcademy, we provide (free of charge), all past SATs Key Stage 2 papers for both Maths and English (including the latest!). We have arranged the questions of all papers by topic, so that you can focus on specific problem areas for your child, rather than specifically KS2 English SATs 2016, for example.
Using the KS2 English Past Papers that we provide, you can familiarise yourself with the format of the papers, as well as building your child's confidence… There is no need for any surprises during the test!
Of course, we recognise that some schools will cover the Key Stage 2 English curriculum more comprehensively than others. We also recognise that 'practicing' something your child was never properly taught, or does not understand, will not be helpful. If this is the case for you, we can offer more than just Key Stage 2 English SATs papers! Under the tutoring tab of the PiAcademy site, you will see that we have Key Stage 2 literacy level tutoring available.

Our English Key Stage 2 courses:
Our Key Stage 2 English tutoring covers all of the topics and subtopics specified by Key Stage 2 SATs exam boards (namely, reading, writing, and spoken language).
We have two options available to students: a one year course consisting of one lesson per week; or a crash course, lasting three to four months but consisting of approximately two hours per week. Post-lesson support includes lecture notes, instantly marked homework, and past paper exam questions to practice.
If you feel in need of some last minute SATs KS2 English preparation, the crash course may be perfect for you.
Good luck!
Together, we can do this! Familiarise yourself and your child with what is expected of them in the Key Stage 2 English papers, using the descriptions above as a guide; remember that there are three different tests to prepare for within the Key Stage 2 English specification (KS2 English Grammar Punctuation and Spelling, a.k.a 'SPaG', covered by two tests, and Key Stage 2 English Reading).
Remember that Key Stage 2 tests focus on material learnt throughout the four years of KS2: year three to year six. However, if you don't feel that your child has been fully prepared at school, or has forgotten some of the curriculum – fear not! Make use of our expert English tutors to give your child focused attention and personalised teaching.
Good luck to you and your child in your journey to the Key Stage 2 SATs papers! With the wealth of resources and help available here at PiAcademy, we know that you will do brilliantly. Finally, keep in mind the following throughout…
Helpful tips to remember…
Practice makes perfect!

Make use of all Key Stage 2 SATs practice papers at your disposal
Mark schemes for Key Stage 2 SATs past papers are also available, these are vital to measure progress and spot any issues

Work on specific problem areas…

Use our website to find past paper questions on specific subtopics. If your child struggles with Key Stage 2 spelling, look for the questions based around this in the first of the SPaG papers

Tutoring available with PiAcademy!

Don't forget to check out our courses taught by professional English tutors

Know your curriculum…

Use the descriptions in this article to understand exactly what your child needs to know for their test

Mix things up!

Revision can get quite tedious… make things more fun, and keep your child interested, by adding some KS2 English games (such as mini spelling bees instead of boring spelling tests) in to the mix

Take a break…

Don't overwork – be sensible and make sure to arrange break time and fun things as well as SATs prep!