The CEM 11+ Test: What Do Parents Need to Know?
If you are considering sending your child to a grammar school, you might have heard people talk about the 11 Plus test. All grammar schools (and many independent schools) use this academic assessment to test Year 6 children's aptitude in Maths, English, Verbal Reasoning and Non-Verbal Reasoning skills. To be offered a place in a grammar school, your child will need to pass an 11+ test: that's where the importance of 11+ CEM Papers comes in.
There are currently two exam boards in the UK that set 11-plus tests: Granada Learning (GL) and Centre for Evaluation and Monitoring (CEM). In this article, we'll focus only on the CEM 11 Plus Paper, not the GL test. We'll outline everything you need to know to prepare your child for the 11+ CEM test.
.
The CEM 11+ An Overview
The CEM 11 Plus was designed quite recently by educational researchers at the University of Durham. CEM papers aim to assess pupils' abilities in a manner that ranges across various types of aptitude. It differs from some more traditional 11+ exam formats in that the structure isn't fixed, and the four different skill areas being assessed (Verbal Reasoning, Non-Verbal Reasoning, Maths and English) are not always separated within the paper. The length and timings of the new CEM 11 Plus test can also vary.
These aspects are intentional and meant to make it more difficult for pupils to know exactly what the CEM 11+ exam papers will be like in advance. This is because CEM's researchers believe that their traditional, fixed 11+ exam formats were too easy for children to prepare for in advance with intensive tutoring, thus giving tutored pupils an unfair advantage over their peers. Due to its less traditional elements, the CEM 11+ exam has been dubbed by some as a "tutor proof" 11 Plus paper.
Undoubtedly, the blended and unfixed format can make preparation more challenging. Also, the fact that 11+ CEM past papers are not available for the public makes the preparation for the 11plus CEM exam even trickier.
However, it's still highly effective and worthwhile to give your child plenty of opportunities to familiarise themselves with the sorts of questions they might come across in a CEM 11 Plus paper, either through tutoring or through using CEM practice papers.
The more familiar your child is with even the general style of a CEM 11 Plus test, the more comfortable and at ease, they are likely to be when sitting the exam- allowing their skills and knowledge to shine through.
Skills Tested in the 11+ CEM Papers
The CEM 11Plus Exam Paper format
Due to CEM tests being tailored to the individual requirements of schools or local authorities around the country, there's no single fixed format for the CEM 11 Plus.
Often it will take the form of two 45 minute papers which each contain a range of different topics across English (Verbal Reasoning), Maths (Numerical Reasoning) and other Non-Verbal Reasoning questions. Typically these two papers are further split into a variety of shorter timed sections.
Both these time allowances and the number of questions in papers can differ. Similarly, the format of questions can be difficult to predict: in some cases, 11+ exam papers are entirely multiple-choice, but others involve written answers. You should also bear in mind that the CEM 11 Plus can be paper or computer-based.
We realise that this is quite a broad format! However, one thing you can know for sure is that the CEM test format will certainly be aimed at assessing your child's Verbal Reasoning (English), Non-Verbal Reasoning and Numerical Skills (Maths). Therefore, the best way to prepare is to focus on helping your child become confident in these areas and practice 11+ CEM Practice papers.
To give you a better idea of the type of questions your child might encounter, and to help develop their skills in key CEM 11 plus English and Maths topics, it is recommended to practice 11+ CEM test papers of Maths and English on a regular basis. Also, solving Verbal Reasoning and Non-Verbal Reasoning practice papers can help your child gain mastery over reasoning questions.
11Plus CEM Assessment Syllabus
.
What Maths Syllabus does the 11Plus CEM Test Cover?
Broadly speaking, the CEM 11+ covers the National Key Stage 2 Maths curriculum. However, as mentioned above, the test can also involve topics or areas which aren't officially included in the KS2 Maths syllabus, such as logic and reasoning questions.
Below, you'll find a list of Key Stage 2 topic areas that could be assessed by the 11+ CEM. But remember- it's always easier to gain an understanding of a test by looking at question types instead of just broad topics- so CEM-style maths papers can give you a clearer picture of how these key maths topics might be covered.
Numbers: Reading and writing numbers, Number lines, Order and compare, Place values, Prime numbers, Square numbers, Cube numbers, Operations – addition, subtraction, multiplication, division, Patterns and sequences, Fractions and decimals, Percentages, Word problems
Algebra: BIDMAS, simple linear equations
Ratio & Proportion: Speed, distance & time, Word problems
Geometry: 2D shapes, Area and perimeter of shapes, Angles, Coordinates, Reflections and Translations
Measurements: Unit conversions, Mass, Length, Area, Capacity/Volume, Money, Time
Statistics: Pictograms, Bar charts, Pie charts, Line charts, Mean, median, mode & range, Venn diagrams
Train & Bus Timetables
Logic/Non-verbal Reasoning questions: Series, Analogies, Like-figures, Codes, Odd-One-Out, Matrices, Merge Shapes
What English Syllabus does the 11+ CEM Test Cover?
The CEM 11+ Verbal Reasoning questions can cover a range of skills related to KS2 National Curriculum English. As with the maths syllabus, we recommend looking at the broad categories of your child's learning listed below.
However, CEM-style English practice bundles can provide you with more comprehensive guidance as these can help you gain a clearer idea of how these areas might be assessed in the English CEM 11 Plus exam questions.
11+ CEM Comprehension: Identifying and gather information from the text, Understanding literary techniques, Inference, Understanding character, Summarising sections of a passage, Explaining the meaning of high-level Vocabulary
CEM Vocabulary: Synonyms and Antonyms, Latin and Greek Root Words, Gendered Words, Idioms
Grammar: Tenses, Main and Subordinate Clauses, Pronouns, Prepositions, Determiners, Conjunctions, Verbs (Modal, Verb Agreement), Nouns, Adjectives, Plurals, Suffixes, Prefixes, Compound words, Active/passive voice
Punctuation: Speech, Hyphens, Parentheses, Commas, Full Stops, Semi-Colons, Hyphens
Verbal Reasoning: Synonyms & Antonyms, CLOZE tests, Jumbled sentences/stories
11+ CEM Sample Questions
.
CEM English 11Plus Sample Questions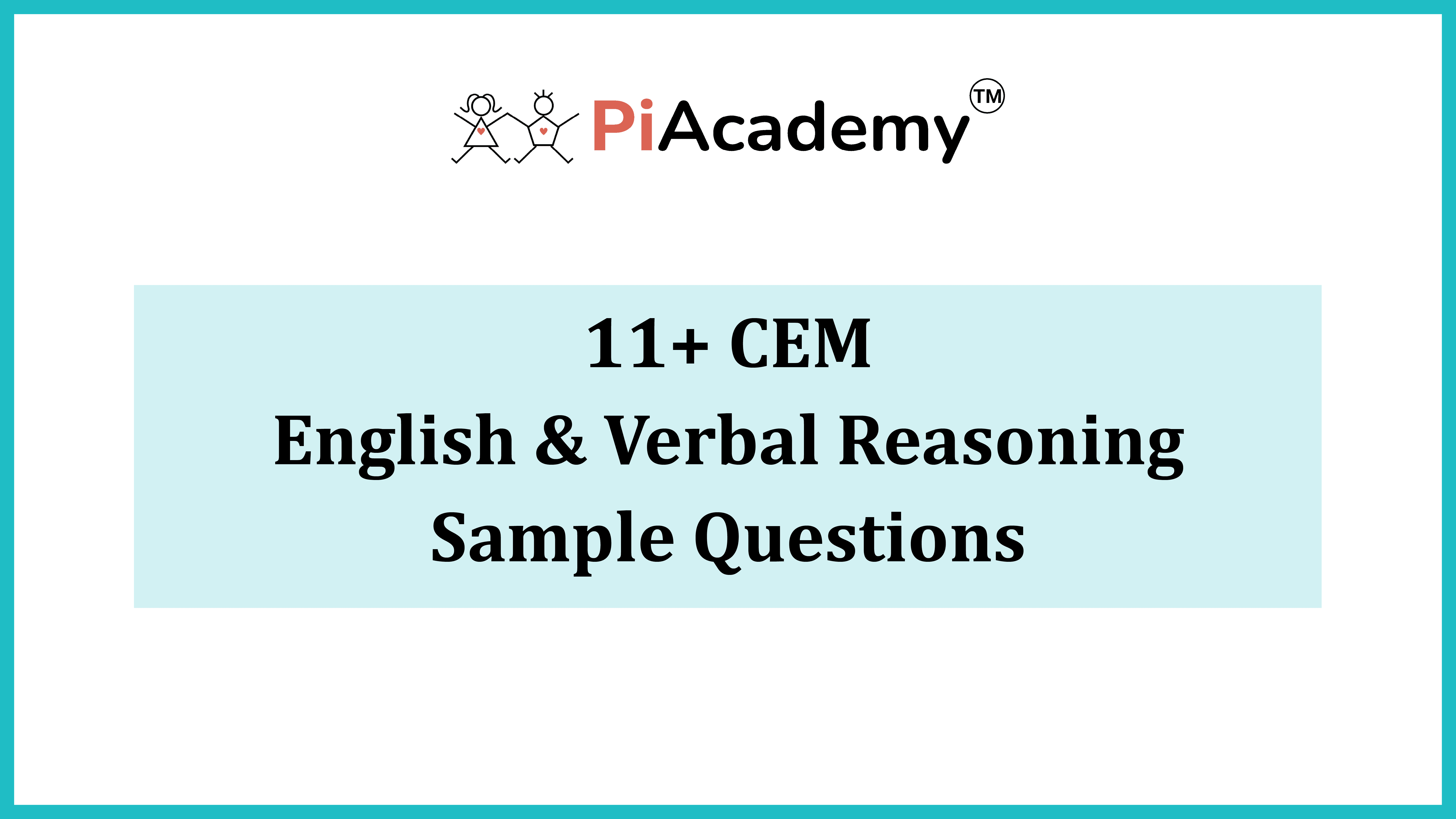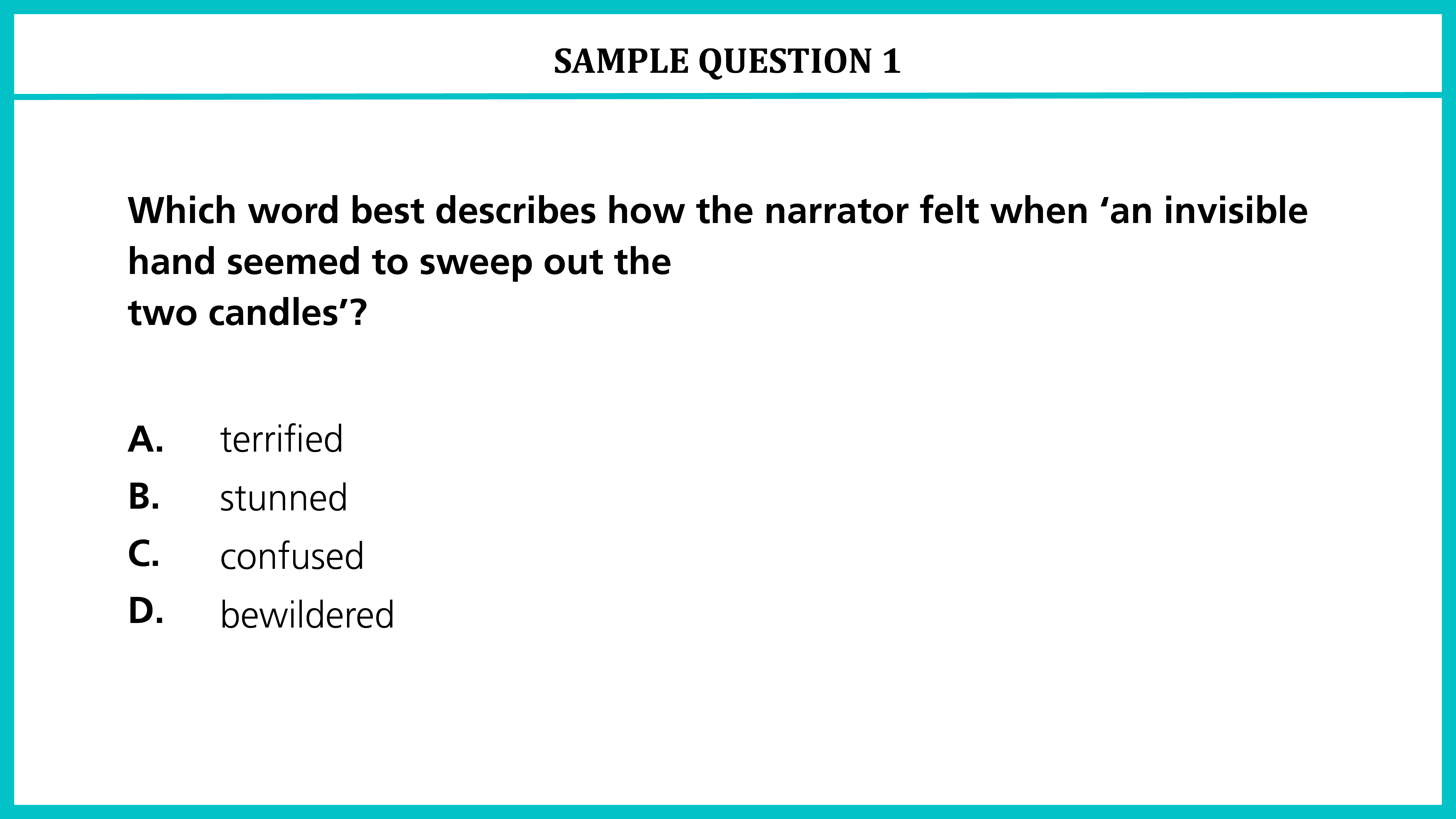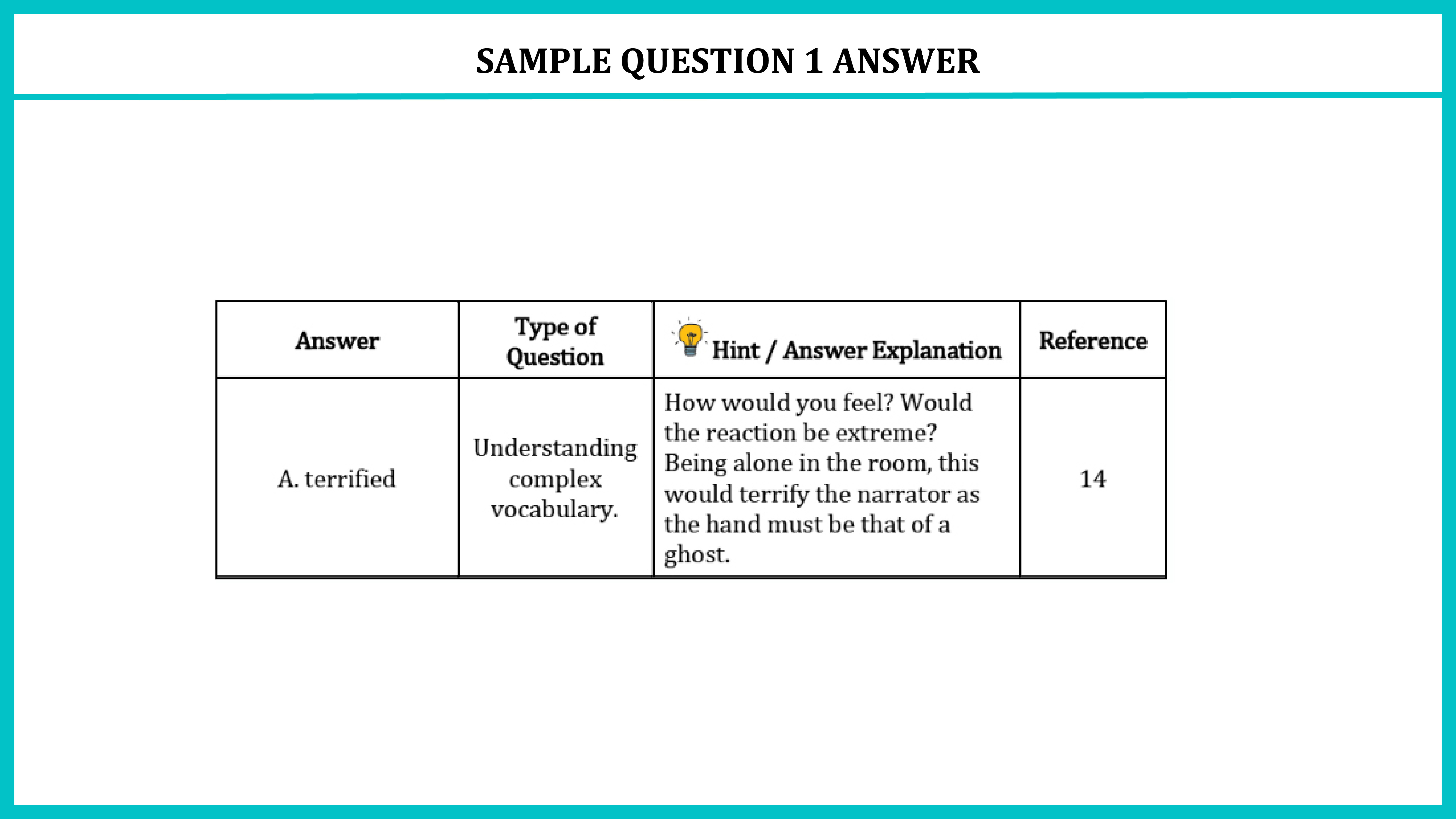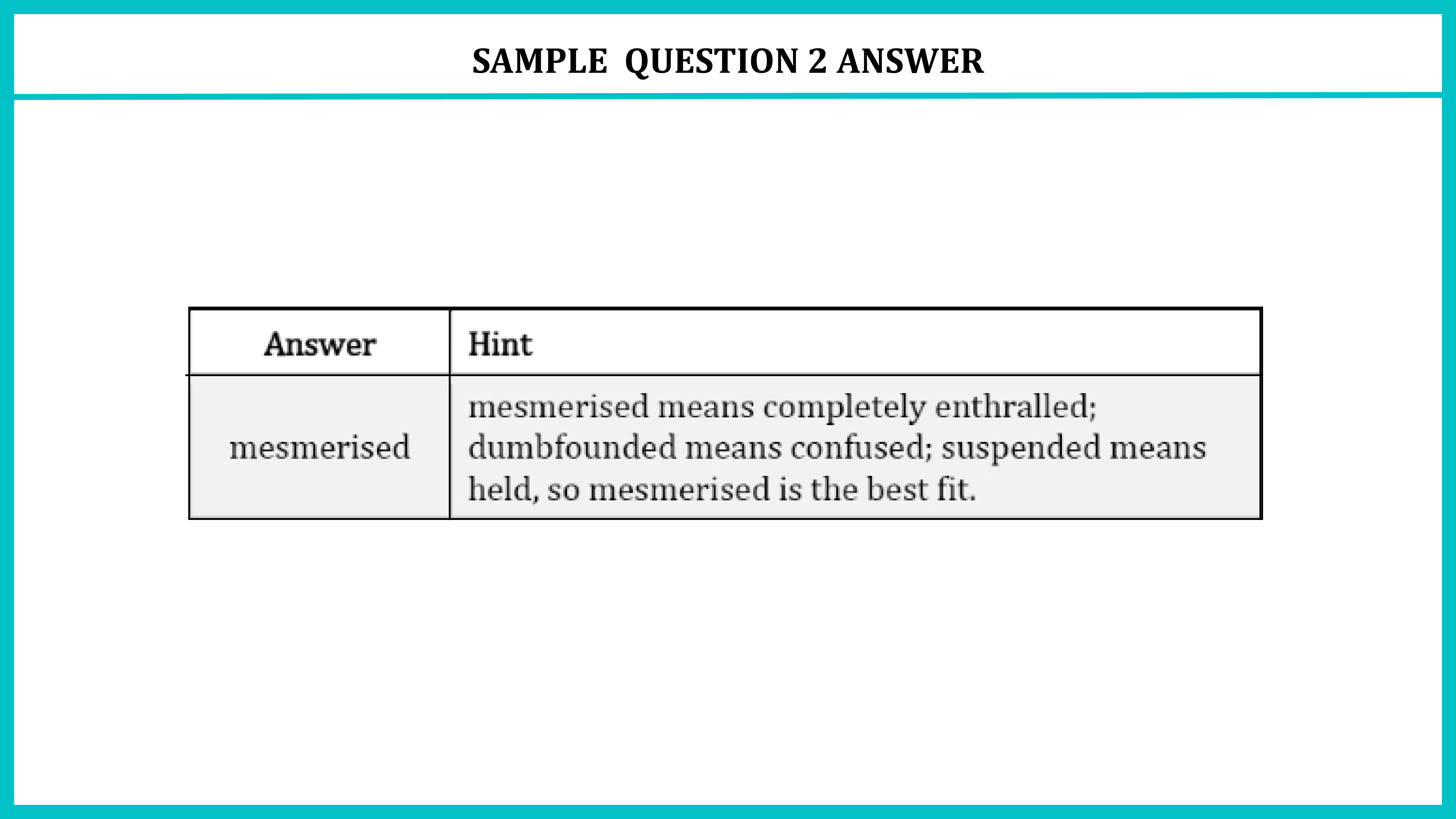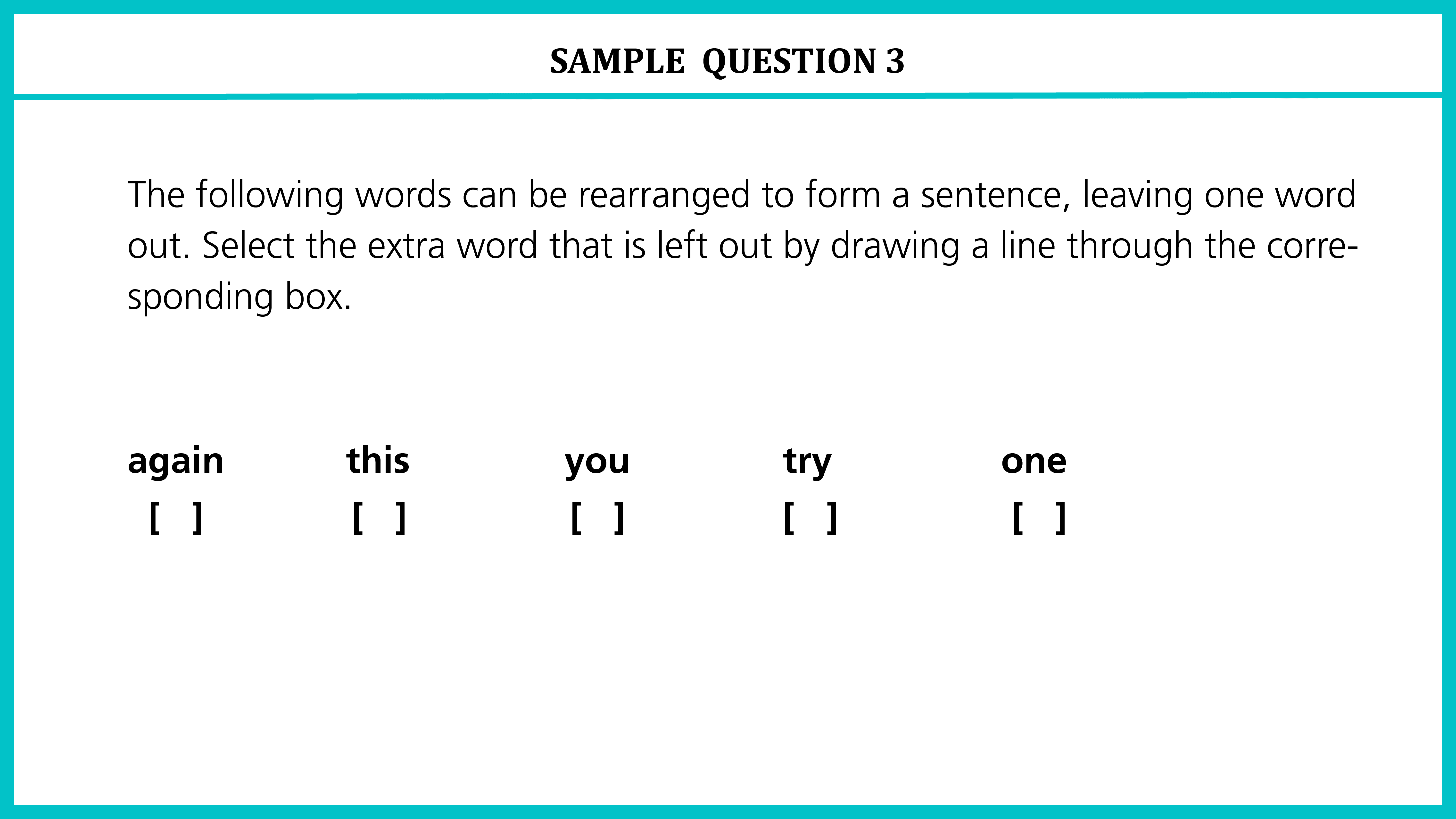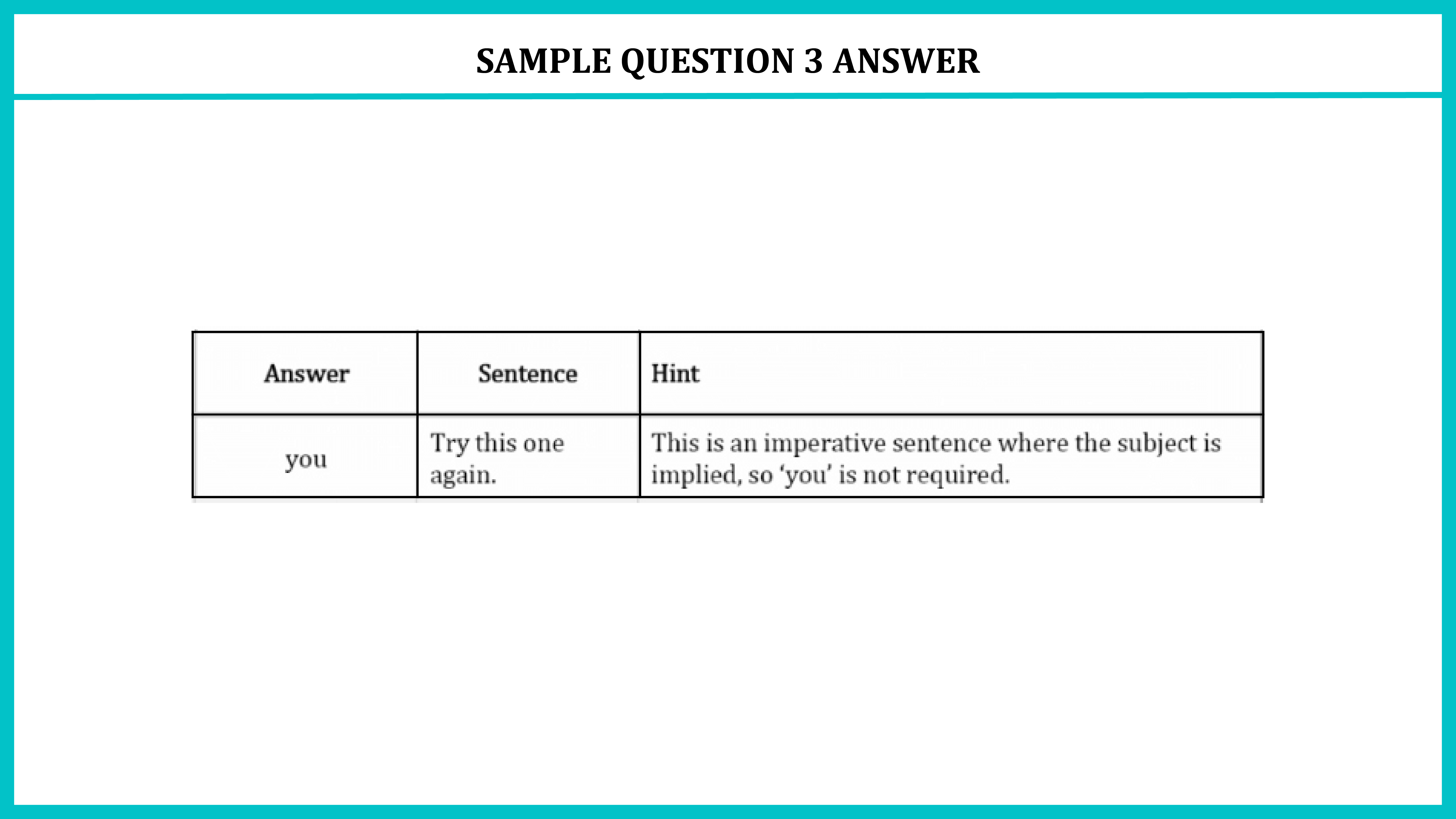 .
Practice 11+ CEM English practice papers to gain mastery over CEM English questions.
CEM Maths 11Plus Sample Questions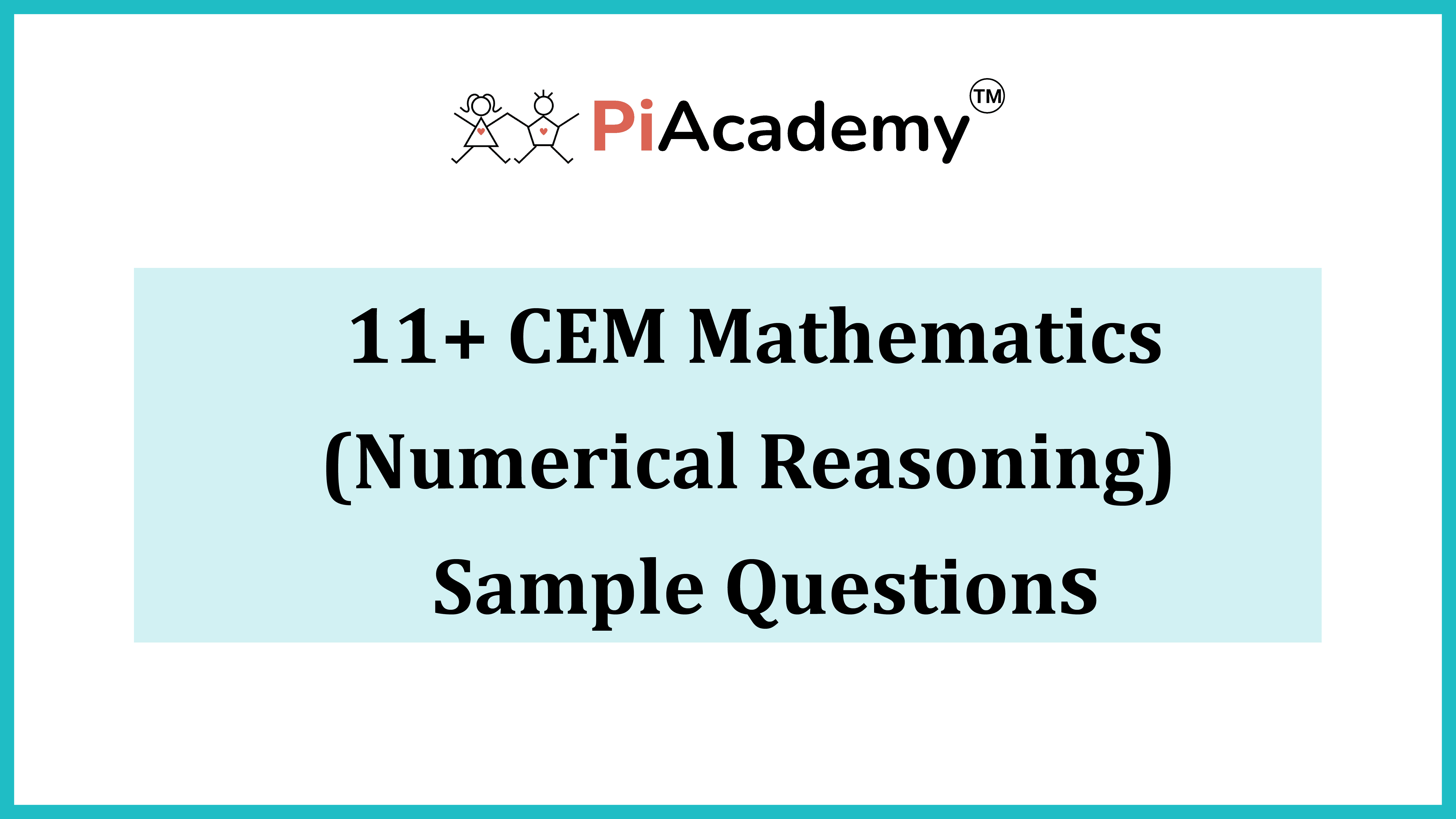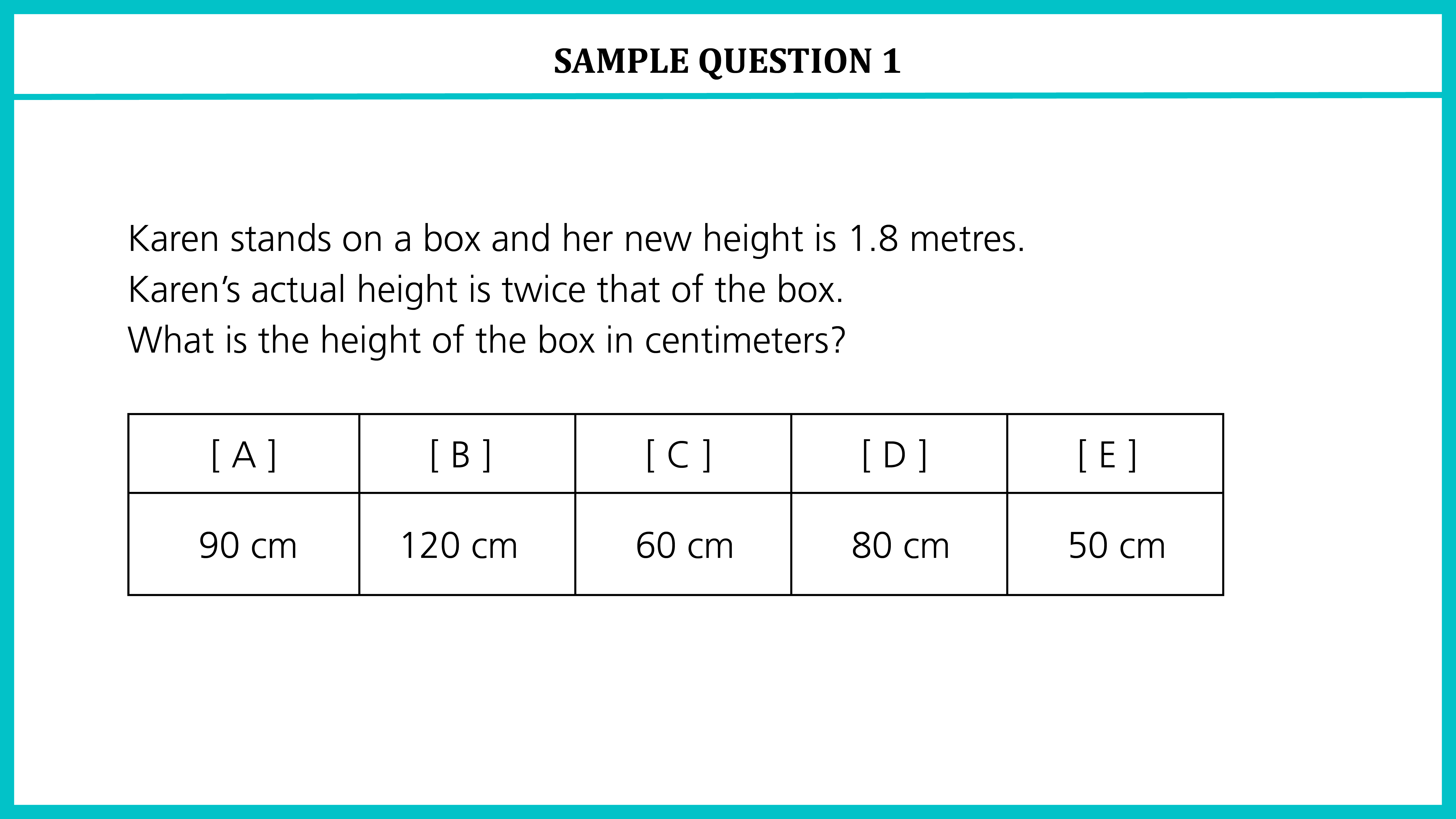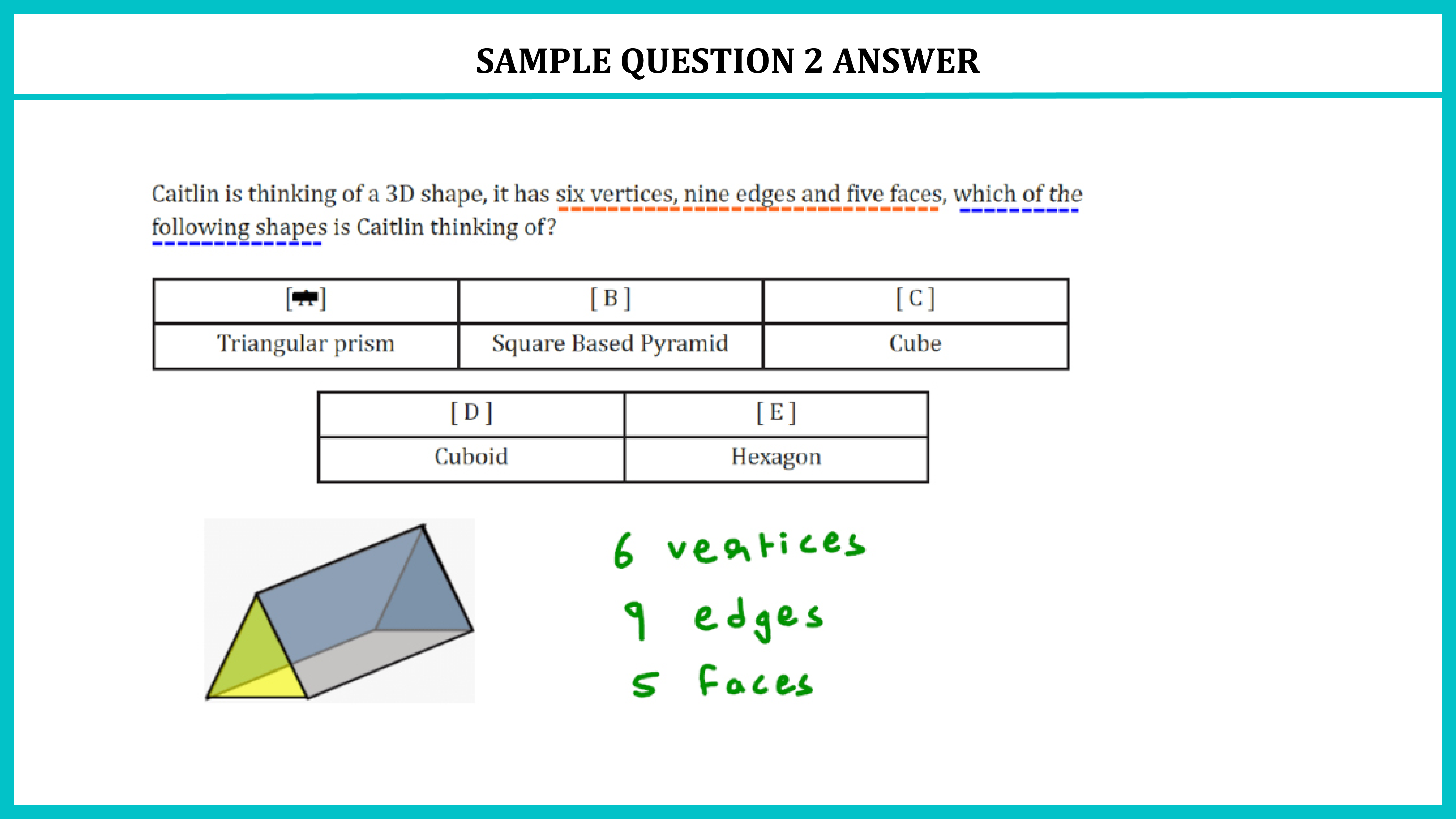 .
Boost your confidence in CEM maths by practising 11+ CEM Maths practice papers.
How can my child prepare for the 11+ CEM assessment?
As mentioned earlier, the CEM 11Plus is designed to make it difficult for children to intensively prepare in advance. That said, as with any test or exam, strong familiarity with the core syllabus covered is extremely important. To this end, we believe that regular, manageable sessions of KS2 Maths revision and solving a few CEM practice tests, will almost certainly be helpful to any child undertaking the CEM 11+ test.
For students who are not native English speakers, we also recommend a great deal of practice and preparation across reading, writing, grammar, spelling and punctuation, as a lack of sound knowledge in these areas will otherwise prove a disadvantage in the English/Verbal Reasoning sections. Similarly, all children who have a narrow vocabulary will benefit from engaging as much as possible in reading activities, conversations and media, which allow them to access and acquire new words and concepts.
Lastly, it's also extremely important to allow your child the chance to become familiar with the types of questions and formats which might come up CEM exam papers; this can make the paper itself less daunting and allow children a clearer expectation and increased confidence when sitting the exam. Practising Maths and English CEM bundles can help your child prepare to the best of their abilities.
Tips to solve the 11+ CEM Assessment Maths Questions
Many children find Maths assessments nerve-wracking. Although the CEM 11+ maths questions are designed to be tricky to prepare for in advance, you can still pass on some helpful techniques to your child to help them do their best on exam day.
Here are some of our top hints for the Numerical Reasoning/Maths CEM 11+ questions:
When practising questions, help your child develop an awareness of time management: this might involve helping them to know when to move on to a new question if they have been stuck on one for several minutes
It's okay if they don't know an answer: everyone has gaps in their knowledge! Help your child gain a healthy perspective, as anxiety about lack of knowledge can hinder a child's ability to display what they do know
Circle, move on, come back: help your child practice prioritisation by identifying more challenging questions and returning to them if necessary after they've tackled other questions
Tips to Solve 11+ CEM Assessment English and Verbal Reasoning Questions
The key skills required for CEM 11+ Verbal Reasoning (English) questions can be challenging for some children. However, there is a range of habits, techniques and tips which can help your child approach questions in a methodical and effective way. Here are our top tips when it comes to CEM 11+ Verbal Reasoning and English questions:
Help your child remember that time management is key. Two minutes spent re-reading a passage is time well-spent if it improves their understanding. By contrast, rushing can easily lead to misunderstandings
If your child struggles with vocabulary, help them to practice working out meaning from context; show them examples of sentences where they can infer a meaning based on other clues in the sentence
Encourage logical thinking by giving your child chances to practice techniques such as "process of elimination" for more difficult questions
Which PiAcademy Packs can you use for 11 Plus CEM practice?
You might find that both you and your child feel daunted by the prospect of preparing for CEM 11 plus exams. This is entirely understandable. However, as with any challenge, the key to success is an organised approach and top-notch resources to help you on your way.
To that end, The PiAcademy has created a variety of Subject-wise packs with 11+ cem practice papers pdfs tailored to help you guide your child through the process of preparing for the CEM 11Plus assessment. Our packs are organised by subject, allowing you to select the areas of your child's knowledge which you want to help them focus on.
CEM 11 plus practice papers have been designed by experts to give you access to a full variety of questions and are specifically designed to mirror the formats and types of questions your child will encounter in a real CEM 11Plus test.
Maths CEM 11 Plus Subject-Wise Bundle contains 16 full-length practice papers and over 600 varied questions along with step-by-step solutions, making this a fantastic and indispensable resource in preparing for the CEM 11Plus.
Elsewhere, our English CEM 11 Plus Subject-Wise Bundle contains 8 full-length practice test papers and over 450 questions. Full solutions are available, too, so you can help your child develop an excellent grasp of CEM 11Plus English questions.
Are you keen to help your child develop increased confidence in Verbal Reasoning questions? If so, you might be interested in our range of 11+ Verbal Reasoning practice papers. This collection of papers contains 1100 questions altogether. It is designed to cover 21 different Verbal Reasoning questions, meaning your child will have access to an indispensable resource for CEM 11Plus preparation. We also offer a small selection of free sample 11+ papers for Verbal Reasoning.
Meanwhile, if you would like to gain a greater understanding of the Non-Verbal Reasoning component of the CEM 11 Plus, you might consider using our 11+ Non-Verbal Reasoning Tests pack. This excellent resource contains a comprehensive array of over 1300 Non-Verbal Reasoning questions for your child to practice. We also offer a small selection of free sample 11+ papers for Non-Verbal Reasoning.
Which Regions Use the CEM 11+ Entrance Test?
Berkshire
Devon
Warwickshire
Wirral
Essex (use both CEM and GL assessments)
Hertfordshire (use both CEM and GL assessments)
Trafford (use both CEM and GL assessments)
Yorkshire (use both CEM and GL assessments)
FAQs